Cadence Bank Amphitheatre | Atlanta, Georgia
The Grammy-Award-winning soul and R&B singer, songwriter, and producer, Anthony Hamilton, rose to the limelight for his hit sophomore album "Comin' from Where I'm From" featuring its hit single "Charlene". The man himself is back stronger than ever, to rise up live on stage for a show at Cadence Bank Amphitheatre on Saturday, September 3rd, 2022. After dropping his newest album "Love Is The New Black" last 2021, Anthony Hamilton is set to bring the love to the stage, singing his signature soulful tracks such as "Cool", "Charlene", and "You Made a Fool of Me". With a Tiny Desk gig leading to be found by a wider audience, Hamilton is set to spread the love right at the stage. So, don't miss out on Anthony Hamilton's big stage comeback by booking those tickets now!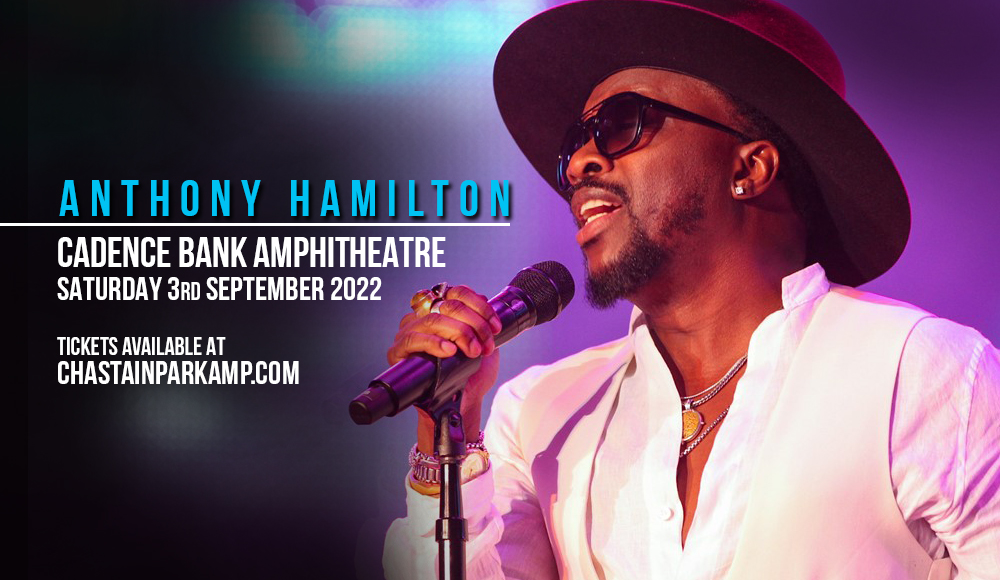 From singing in a church choir in Charlotte and then heading to NYC to kickstart the dream, the soulful voice of Anthony Hamilton found its way singing the chorus to Nappy Roots' 2002 single "Po' Folks" which bagged a Grammy Award in 2003. Hamilton then went on to have more collaborations with Nappy Roots with "Sick & Tired", "Push On", "Organic", "Down N' Out", and "Bluegrass Stain'd". It was in 2004 when Anthony came rising into the limelight with his own solo work off of his RIAA Platinum-selling sophomore record "Comin' from Where I'm From" featuring his hit single "Charlene".
From then on, Anthony Hamilton made waves as one of soul and R&B's top performers. Throughout his career, he bagged 12 Grammy Award Nominations and won Best Traditional R&B Performance for his work "You've Got the Love I Need" with Al Green. His other notable R&B hits and fan favorites include "Can't Let Go", "Cool", "Pray for Me", "Sista Big Bones", "Do You Feel Me", "Amen", and many more.
In September of 2021, the man came crashing back with a big new record "Love is the New Black" after five years since his last record. Anthony Hamilton oozes vulnerability and honesty through his lyrical depth, charisma, and charming vocals that soothe fans' hearts around the globe. The album features his singles "Mercy" featuring Tamika Mallory and "You Made a Fool of Me". Other songs off of the new record include "Mama Don't Cry", "Safe", and "Coming Home".
In an interview with NPR, about his song "Mama Don't Cry", "You see what's unfolding in the news and around you in your city with the racial divide, and you're just stuck in the house with the pandemic, and you become real sensitive…" Hamilton shared. "We wanted to touch the heart strings of people, and to let them know we're losing a lot of people. But mama don't cry, papa don't cry. Be proud of me. I made it. I'm on the other side now."
As he hops on a mission of spreading the love, Anthony Hamilton is set to bring the love to the stage where his signature soulful R&B tracks come to life for audiences to feel raw emotion out of his raw vocals straight to their veins. Get ready for a charming and captivating one-of-a-kind show led by the one and only Anthony Hamilton live at Cadence Bank Amphitheatre this September 3rd. Book your tickets now!