Cadence Bank Amphitheatre | Atlanta, Georgia
'Loving is easy, Rex Orange County sings as the crowd goes wild and chants the lyrics to crowd-favorite bedroom pop and indie rock anthems "Loving Is Easy", "Best Friend", and "Sunflower". With a fresh new album coming out on the eleventh of March, Rex Orange County is set to hit the road on his "Who Cares?" Tour, stopping by at Cadence Bank Amphitheatre on Sunday, May 7, 2022. The man behind your favorite heart-wrenching tracks also recently dropped his newest single "Keep It Up", an ode to keep on going despite moments of darkness. The man also sent unsuspecting fans a postcard saying "Keep it Up", with a phone number that allows one to hear a teaser. 2022 is a bright year for Rex Orange County fans to 'keep it up and look forward to better days ahead with Rex Orange County's new album dropping on March, with their favorite hits and fresh music off of "Who Cares?" live on stage. Book your tickets now!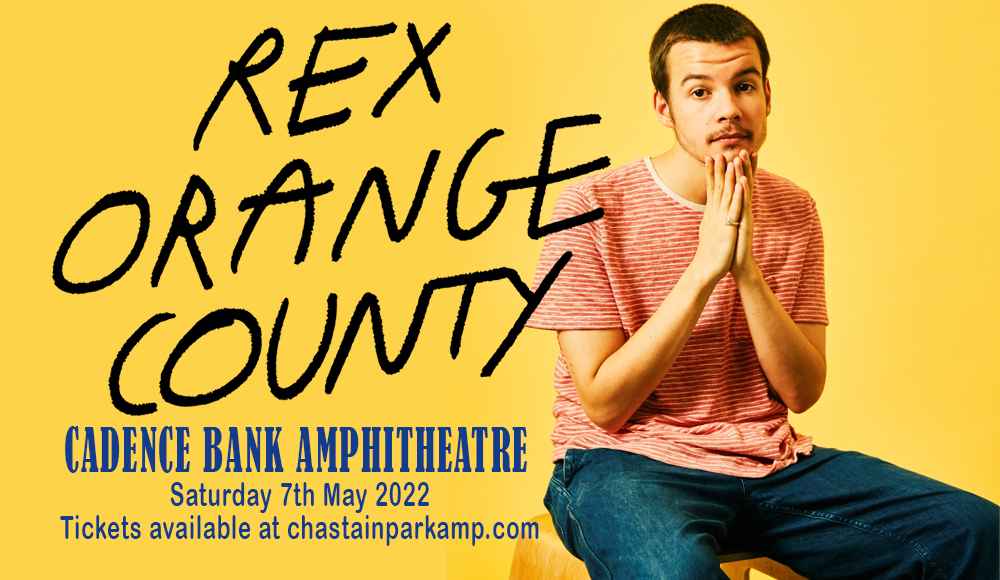 Alexander James O'Connor, or Rex Orange County himself, hails from Grayshott in Hampshire, England. His stage name that we all know him by comes "The OC", a nickname his teacher penned. From becoming a member of the school choir at the age of 5, at 16 started recording music with his guitar and mac, and later on independently releasing his debut record "Bcos U Will Never B Free" on Soundcloud and Bandcamp, grabbing the attention of music producer Two Inch Punch, and rapper Tyler, the Creator.
O'Connor was propelled to greater heights by 2017 upon the release of his second album "Apricot Princess", and certified-platinum hit singles "Best Friend", "Sunflower", and "Loving Is Easy". In 2019, he dropped his third album "Pony" with RCA, marking Rex's first major-label album release, featuring the singles "10/10", "New House", "Face to Face", and "Pluto Projector".
The hypnotic voice behind lyrics that pierce through fans' hearts keeps it up as he teases his soon-to-be-released fourth studio record "Who Cares" with a fresh new single named "Keep It Up" – an ode to keep going despite dark times. Catch Rex Orange County light the way up as he rises back live on stage performing crowd-favorite anthems and fresh music off of his upcoming record. Book your tickets now!