Cadence Bank Amphitheatre | Atlanta, Georgia
If there is one band that has defined the 80s, it has to be Boy George and The Culture Club. Their music became the anthems that filled the airwaves, and even to this day, their lyrics are on the tip of the tongues of many people around the world. As luck would have it, they have just announced a brand new tour called "The Letting It Go Show," featuring special guests Howard Jones and Berlin, which will be coming to 25 North American cities starting at the iTHINK Financial Amphitheatre on July 13th right up until August 20th at the Concord Pavilion. This part of the trek will come to the Cadence Bank Amphitheatre on Tuesday, July 18, 2023, and you can expect them to play all of their magnificent hits like "Church of the Poisoned Mind" and "Karma Chameleon" as well as their current stuff, so without delay, hit that "GET TICKETS" button now to secure your spot.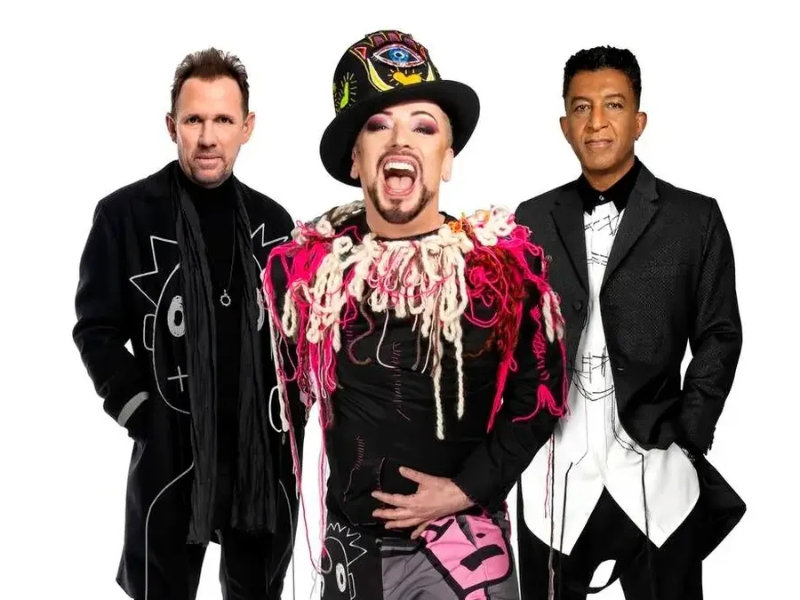 The 80s were one of the most incredible eras, full of excess and new trends that shaped our world today, and there was no one more prolific in the music industry than Boy George and The Culture Club. Boy George's unique use of fashion created a phenomenon as people witnessed his eccentricities on new channels like MTV and Culture Club's use light electronic instrumentation really pushed the boundaries of what was possible which made them into the icons they are today. In addition, their radio-ready lyrics to songs like "Do You Really Want to Hurt Me?" and "Karma Chameleon," as well as others, really resonated with audiences around the world and became the anthems that engulfed the airwaves for a generation.
These icons have done some of the most incredible things that are rarely replicated in the industry. Combined, they've sold over fifty million records worldwide, and in the UK, where the band was formed, they had twelve top forty singles between 1982 and 1999. Their song, "Time (Clock of the Heart)," has also been included in the top 500 songs that shaped rock and roll, according to the Rock and Roll Hall of Fame.
Culture Club have released six studio albums, including "Kissing to Be Clever," "Colour by Numbers," "Waking Up with the House on Fire," "From Luxury to Heartache," "Don't Mind If I Do," and "Life." These albums contain the songs that defined a generation, and you can expect to witness all of the fan favorites at the Cadence Bank Amphitheatre, which is the most perfect venue for this concert. It has the ability to cater to the biggest musicians and their audiences with its beautiful setting and state-of-the-art pro-audio as well astounding facilities and amenities. You can be guaranteed to have the time of your life!!!
With such a hot headliner, absolutely stunning support, and a venue that is second to none, tickets are bound to sell out way quicker than expected. Make sure you grab yours right here and now before it is too late by scrolling up and selecting the "GET TICKETS" button.