Cadence Bank Amphitheatre | Atlanta, Georgia
The legendary alt-rockers singing 'when everything's made to be broken, I just want you to know who I am…" are taking over big nights on a co-headlining tour with their friends from O.A.R. Joining forces on a co-headlining tour, the Goo Goo Dolls and O.A.R. just announced the Big Night Out Tour taking place this summer with a stop at Cadence Bank Amphitheatre on Sunday, 30th of July 2023. Don't miss out on a night featuring your two favorite bands' biggest hits, new music, and crowd favorites live on stage by booking your tickets now!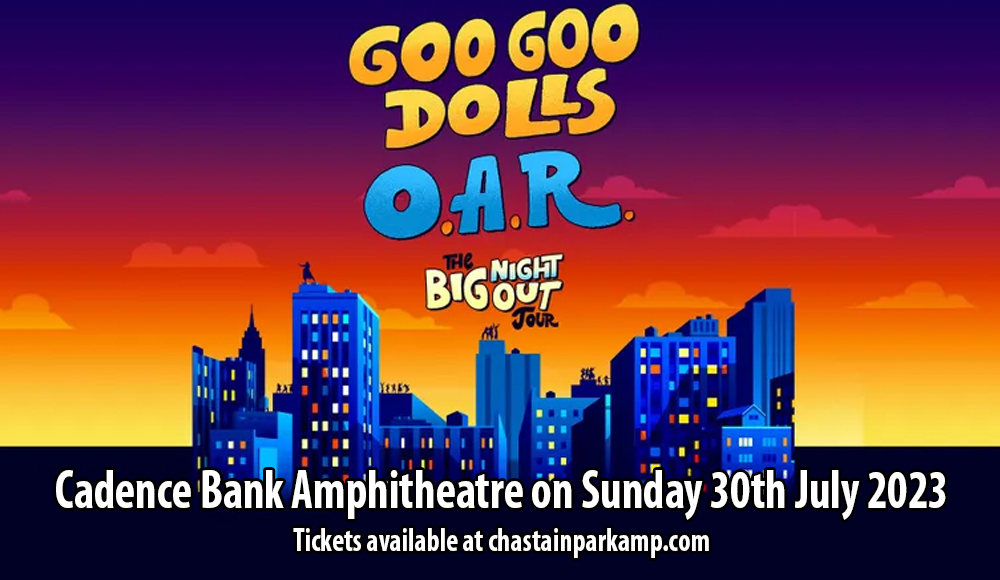 The "Iris" alt-rockers, the Goo Goo Dolls, after wrapping up their North American tour in support of their newest album "Chaos in Bloom", just announced a co-headlining "Big Night Out" summer tour with American rock band O.A.R.
"I'm so proud to finally be able to announce our summer tour with a great band and our friends O.A.R.," John Rzeznik shared in a press release. "It's going to be an amazing night of great music for everyone so be there!!!"
The Goo Goo Dolls comes fresh from the release of their fourteenth studio album, "Chaos in Bloom". The new record features its striking lead single "Yeah, I Like You". Frontman John Rzeznik shared that the album was largely produced by himself, noting an experimental sound compared to what the band is known for from their previous releases. Nonetheless, the album was well-received and supported by the band's fans. Having just wrapped up a tour in support of the new record, the Goo Goo Dolls have 'big nights out in store for 2023 on a summer tour.
Having developed a punk and alt-rock sound that landed the band to receive critical acclaim and widespread support from listeners around the globe, it all began when the band released its breakthrough hit "Name" in 1995. In 1998, they released their global hit single "Iris" which propelled them to become a highly-acclaimed band across the globe. The track spend about 12 moths on the Billboard charts, and taking the #1 spot for 18 weeks on the Hot 100 Airplay chart. Billboard ranked the single #1 on their list of Top 100
Pop Songs 1992-2012. The song also ranked at #39 on Rolling Stone's list of the 100 greatest pop songs.
The Goo Goo Dolls have received several accolades including several Grammy Award nominations, Billboard Music Awards, MTV Video Music Awards, Songwriters Hall of Fame, and other various recognitions.
As the band continues to keep its music alive and the passion burning, the Goo Goo Dolls continue to release new material and serve headlining tours for their fans across the country and the world. Joining forces with O.A.R., they're looking forward to big nights of big hits, fan-favorite music, and high energy as the crowd roars every lyric back on stage.
"After working on separate albums in the same studio all last year, John and I realized pretty quickly how much fun we'd have on tour together," O.A.R.'s Marc Roberge shared. "We're all band guys, love being musicians, and started planning a special night that all our fans would enjoy."
O.A.R., another legendary rock band from the same era as the Goo Goo Dolls, continues to keep their passion alive, known for their extensive tours and high energy in every performance. The band propelled to mainstream success with their fifth album "Stories of a Stranger". The record featured their singles "Love and Memories", "Heard the World", and "Lay Down". In July of 2022, they released their tenth album "The Arcade", featuring its singles "Alive" and "In the Clouds".
Don't miss out on this chance to catch two legendary alt-rock acts sharing the stage on the Big Night Out Tour by booking your tickets now!