Cadence Bank Amphitheatre | Atlanta, Georgia
The one and only Melanie Martinez is back, following the release of her newest album "PORTALS", the acclaimed singer is set to serve her new Cry Baby character on the live stage at her new Portals Tour. The four-eyed, pink-skin fairytale-like figure said to reside between life and death will be making its way to the big stage at Cadence Bank Amphitheatre, bringing Martinez' new lyrical gems on Friday, 23rd of June 2023. As the "Play Date" viral hitmaker continues to explore mature and deep topics in her new material, PORTALS provides an escape with a mission to accompany listeners' grief and varying emotions through the power of music. As "Death" and "Void" continue to make rounds across global airwaves, make sure to stream and feel every depth of emotion that Melanie Martinez serves with PORTALS. Don't miss out on her massive tour comeback by booking those tickets now!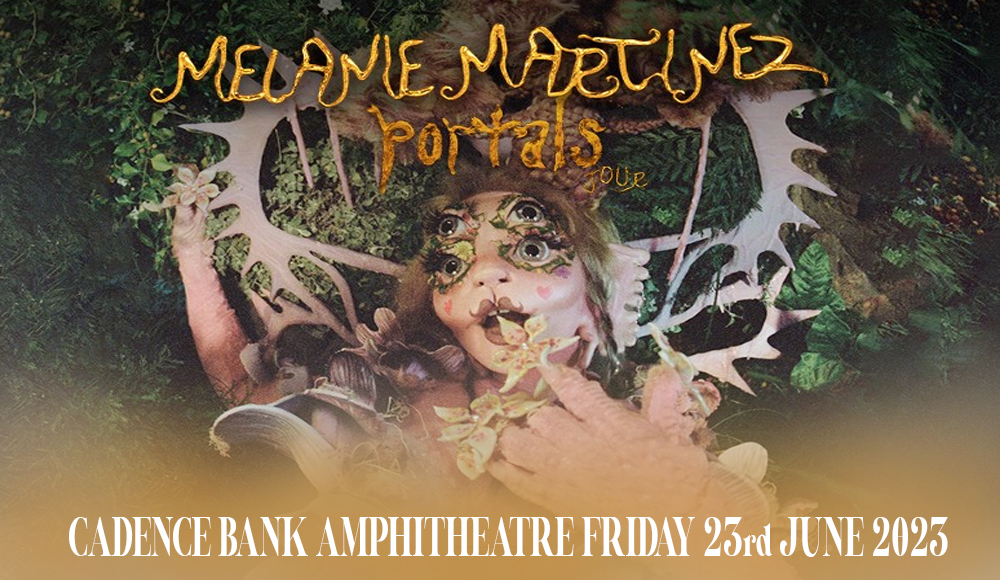 Bringing a new persona to her iconic Cry Baby character, Melanie Martinez in the image of a four-eyed, pink-skinned mythical creature will be taking over the live stage, serving her newest hit album "PORTALS" in a just-announced North American Tour. The 29-date tour trek will bring the singer across multiple cities, performing her biggest hits and new music off of PORTALS. Melani Martinez's most notable hits include "Cry Baby", "Dollhouse", "Pity Party", "Soap", "Training Wheels", "Void", and "Play Date".
As her first tour since 2019 and 2020's K-12 Tour, Melanie Martinez looks forward to sharing her experiences through her lyrical tales and musical art back in live tour concerts.
"I hope the weight of mortality that society has placed on people becomes lighter. I hope grief becomes easier for people while listening to this record," Martinez wrote on Instagram about PORTALS as the record went live. "That they can enjoy this life to the fullest knowing that we're all just here to grow, create, feel, and have shared experiences with one another to help each other evolve."
Featuring new anthems and tracks that accompany the listener's emotion, serving mature and deep themes and stories, "Martinez delivers an effortlessly inventive, mature record that reintroduces her as an artist unafraid to start from scratch and tackle complex, difficult ideas," Rolling Stone shared in a review of the album. "She's letting us inside her world, and the story she tells is crystal clear."
PORTALS features introspective and emotive tracks including "Death", "Void", "Battle of the Larynx", "The Contortionist", "Moon Cycle", and "Light Shower". "All of the songs on this album are based on past-life-regression therapy books I've been reading for a few years now," the singer shared on Instagram. "All of them disguised with earthly themes for double/triple meaning, to create a frequency for humans to relate to while still here on Earth."
Driven by purpose and a deep understanding of life and humanity, Melanie Martinez hopes that PORTALS is able to create and bring life to shared experiences, hoping that humans can help one another evolve into better beings. "That they can enjoy this life to the fullest knowing that we're all just here to grow, create, feel, and have shared experiences with one another to help each other evolve." she added.
With music described as "twisted lullabies about love, danger and madness" by Rolling Stone, and labeling her own music as "very dark and honest", Melanie Martinez is an artist driven by honesty and understanding every depth of emotion that humans face. With an image described as "doll-like and decidedly emo…hyperreal" by The Guardian, the singer never fails to deliver acclaimed live performances that send chills to every concert-goer.
As PORTALS makes it to the live stage, don't miss out on catching Melanie Martinez live at Cadence Bank Amphitheatre by booking your tickets now!