Cadence Bank Amphitheatre | Atlanta, Georgia
The highly acclaimed multi-platinum awarded American singer known for his alluring voice and heart-warming hits, Josh Groban, is back to perform live on stage at Cadence Bank Amphitheatre on Saturday, 16th of July 2022. He's the majestic voice behind the world's favorite powerful cover of "You Raise Me Up", hit contemporary tracks "Believe", "Higher Window", "Brave", and many more. Fans around the world remain hooked on his covers of "Ave Maria", "The Prayer" with Celine Dion, "Have Yourself a Merry Little Christmas", and much more. Josh Groban dropped his ninth album back in November of 2020 that features the singles "Empty Sky" and "The Impossible Dream" among others. The man oozing with charm as he soothes listeners with his alluring baritone and takes it all up as he magnificently belts higher notes with felt emotion, Josh Groban is a highly acclaimed crowd-favorite in the contemporary music scene. This handsome fellow invites you to be serenaded on a fine night of crowd-favorite tracks, classic hits, and emotional covers by the man himself, Josh Groban. Book your tickets now!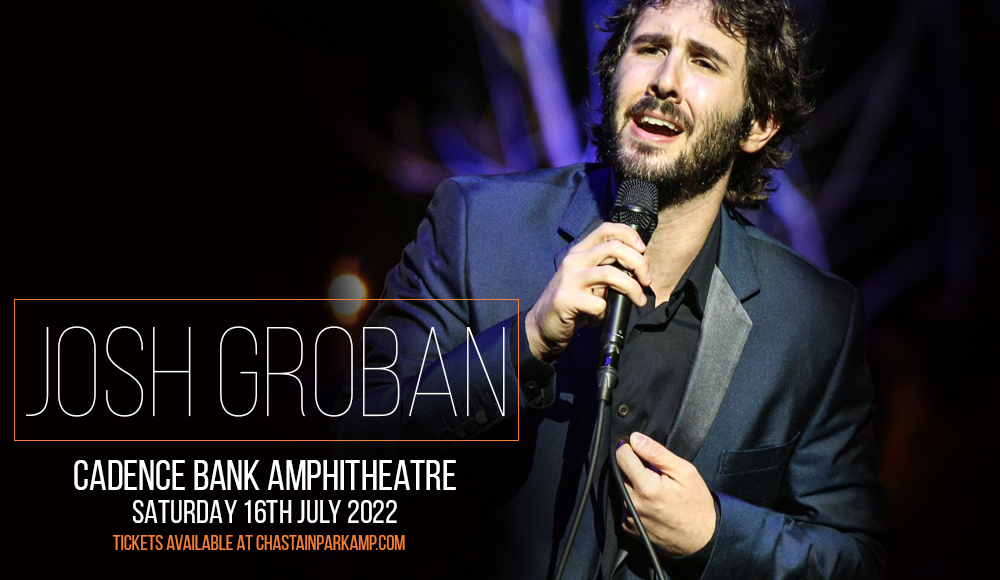 Josh Groban was born and grew up in Los Angeles, and first sang publicly on stage in seventh grade when he was chosen by his music teacher to perform a solo of "S'wonderful". By 1997, at 16, he was introduced to the highly acclaimed Grammy-award-winning producer David Foster who he then worked for as a rehearsal singer for events including the 1999 Grammys where he rehearsed David Foster's "The Prayer" as a stand-in for Andrea Bocelli. Years later, he performed the same song with Bocelli in the 2008 Grammy Awards and with Celine Dion after.
"He's a true musical force to be reckoned with," Foster says as he signed Groban into a recording contract. His debut album "Josh Groban" is now multi-platinum awarded selling over five million copies. Of his 9 studio records from the last two decades, five of which are platinum and multi-platinum awarded, scoring three #1 albums on the Billboard 200. RIAA says he sold 20.5 million certified album units in the US; the man ranks 14th on Billboards top-selling artists of the 2000s.
As the handsome and charming man walks up the stage, he instantly amazes audiences as he sings classical lyrics with his irresistible soothing baritone that magically captures listeners' hearts. If you're in for a fine night of classical-sung music and hits by the one and only Josh Groban, book your tickets now!