Cadence Bank Amphitheatre | Atlanta, Georgia
The Yacht Rock Revue is set to take music fans back to the era of sun-soaked days, sandy beaches, and laid-back tunes of the 70s and 80s this summer as they bring their "Reverse Sunset Tour" to some of the major venues in the country. The American rock band will sport their signature sounds that perfectly encapsulate the spirit of the yacht rock genre. Come to Atlanta, Georgia's Cadence Amphitheater this August 26 for an evening filled with smooth melodies and infectious grooves that only the Hot Dads in Tight Jeans can offer. With their endearing charisma, superb musicianship, and soulful harmonies, the band will bring you the hits of legendary artists like Christopher Cross, Hall & Oates, Michael McDonald, Steely Dan, and many others. Secure your tickets today and prepare to sail into the smooth tunes of the band that endears music fans across generations. Click the "Get Tickets" link to reserve yours today.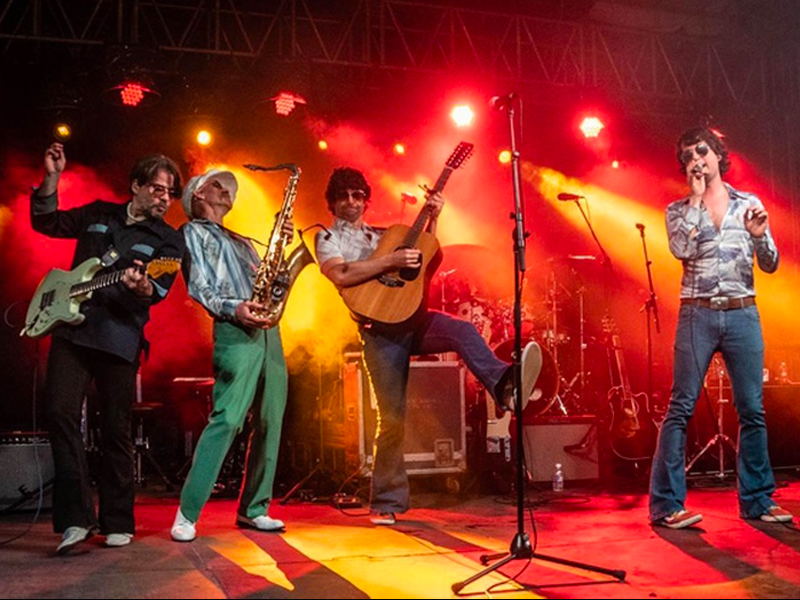 The creation of Yacht Rock Revue is a coincidence. One evening while the rock band Y-O-U was performing in a club, they decided to play "yacht rock" songs, a subgenre that became popular during the 70s and 80s and is comparable to contemporary soft rock. While performing, the band members, which comprised Peter Olson, Nicholas Niespodziani, Mark Cobb, Greg Lee, Mark Bencuya, Mark Dannells, and David Freeman, noticed that the audience preferred their yacht rock song performance. The club manager would urge them to continue playing the songs. In the beginning, Niespodziani was adamant about changing their style but was convinced after their multiple performances proved that they could gain something from it. From there, the band shifted their music to focus on yacht rock. Ever since then, they have continuously sold out venues in the many cities that they visit. They also changed their name from Y-O-U to Yacht Rock Schooner and then the now-famous Yacht Rock Revue.
Since their formation in 2009, they have never stopped playing yacht rock songs, to the point that they have become a tribute band to the subgenre. They have played more than a hundred shows a year since they started, and they will not stop anytime soon. In 2015, they established a restaurant called Venkman's, where rising indie bands can play their songs. Also, they contributed to the 2018 book, The Yacht Rock Book: The Oral History of the Soft, Smooth Sounds of the 70s and 80s. They are recognized as the current frontrunners of the subgenre.
On the other hand, Niespodzian continues to make original songs for the band, with "Hot Fads in Tight Jeans" as their most recent album released in 2020. Their debut single, "Step," became a favorite among their fans.
If you are a Be Gees and Steely Dan fan (both are known as among the best yacht rock artists in music history) and are looking for a modern take on their songs, you should listen to Yacht Rock Revue. If you are close to the cities they perform in, you should see them live. Among their stops this year is at the Cadence Bank Amphitheatre on Saturday, August 26. Ticket sales have begun; get yours now!